Recognition for Cambodian who saved Aussie lives
By Fleur Lapthorne
A Cambodian man has been recognised 25 years after he saved the lives of two Australian soldiers from the Khmer Rouge.
CAPTION: Cambodian interpreter Toch Rada with family and colleagues at the Australian Embassy in Phnom Penh.
Toch Rada was presented with an Australian CDF Commendation for his more than 25 years' excellent service, including when he successfully negotiated the release of the two men who had been detained by the Khmer Rouge in Kratie, Cambodia.
A research officer and interpreter, Mr Toch was presented the commendation at a ceremony at the Australian embassy in Phnom Penh, Cambodia recently.
Mr Toch was joined by his family and members of the Cambodian embassy community where he was presented with his award by Australian Ambassador Angela Corcoran, acknowledging his exceptional performance in life threatening and routine circumstances over the past 25 years.
"The CDF Commendation is the highest internal Defence award. To the best of our knowledge it has never been awarded to a locally engaged staff member, anywhere in the world," Ms Corcoran said.
"I think it is important to note that this is not just an award for more than 25 years' excellent service, but because on at least three occasions Rada has performed admirably in very dangerous circumstances."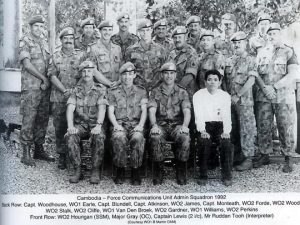 Former WO2 Gary Perkins was one of those men Rada saved after successfully negotiating their release.
"It makes me so happy and proud that you have received this Australian CDF Commendation, you are a credit to yourself, your brother, the memory of your family and the Kingdom of Cambodia," WO2 Perkins said.
Mr Toch said he had a mixture of feelings as he received his award.
"This is a tremendous honour not only for me but also for the Defence section, for the embassy and for my family to receive this award," he said.
"Therefore I would like to attribute this to them.
"Without their support, this wouldn't have happened today.
"It will be a great memory."
From contactairandsea.com