Banks Warn of Construction Growth Risks
Phnom Penh: Cambodia's construction and real estate sector has been seen as a significant and long-standing, symbol of economic growth. Since the economic crisis in 2008, the sector has grown steadily from year to year without ever decreasing.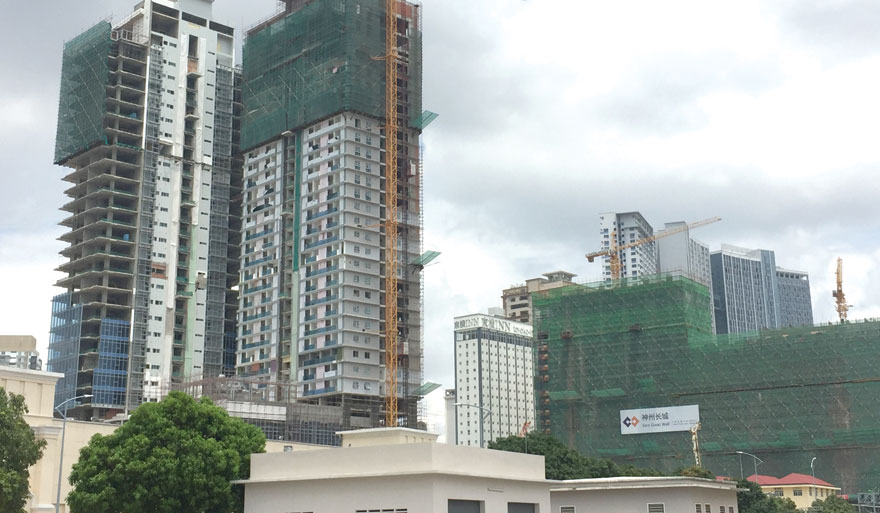 However, the National Bank of Cambodia and the World Bank in Cambodia have shown that the increase in construction and real estate is too high. Real estate surges beyond the real demand could be risky for the banking sector and investor confidence, as credit growth in the sector is high.

According to a statement issued by the National Bank of Cambodia issued on January 2, 2019, the construction sector contributed about (one fifth?) of economic growth, indicating a stronger reliance on the sector.
Generally the construction sector has a cycle, as new developments cause the sector to grow and recede when major construction projects are completed. 
The same statement emphasized that credit growth to the construction and real estate sector remained high at around 31% Acceleration in the construction and real estate sectors could cause real estate prices to exceed real demand and have potential risks to the sector, along with banking and investor confidence .

World Bank senior economist Ly Sodet also said last month that construction and real estate has always seen theses cycles, and the sector in Cambodia has grown steadily for more than 10 years. There will be a downturn in the cycle at some point, so investors and the Royal Government must increase the high level of attention on investing in the real estate industry and avoiding serious economic problems in Cambodia.

"Since the global economic crisis, construction and real estate have been rising so the growth will not always continue to increase," he said. When it reaches the peak, it will fall. Nobody knows exactly when this will be, and for now, real estate and construction prices are also growing, making more bank loans available. This increases risk, so protecting the health of the financial sector (is vital) to prevent economic problems. " 
Despite this, the directors in the sector are optimistic about the high potential for special investment in Phnom Penh.

Chairman of the Association of Valuers and Real Estate Agents of Cambodia, Chik Soknim, said on 4 Janauary, that in 2019 the real estate sector still shows good signs, especially in Phnom Penh. "In terms of economics with ASEAN countries, Cambodia is regarded as a fast-growing country, in that, we see that growth momentum is maintained in a steady period and partly due to the growth of the real estate sector. "

Similarly, Hem Seiha, director of research at Vtrust Appraisal, said in late December: "They say the real estate sector will have a problem, but if realities are real, it's nothing to worry about – it's still going on. Good investment and continuous investment from overseas, so I think it still has a high potential for national and international investors." https://kohsantepheapdaily.com.kh/article/762127.html