Filipino Family Love New Life in Cambodia
---
Nothing is as life-changing as having a baby.
When Camille and Borky Perida had their baby Gabriel Serif in 2009, the college sweethearts had to rethink their future.
"We lived in Malolos, Bulacan, and were both working in Manila," Camille, a marketing professional at a publishing company, began.
"Every day, we had to travel for about 2-3 hours to get to the office. We had no time for our son because he would still be sleeping when we leave in the morning, and already asleep when we get home.
"Renting a house near our workplace was not an option because we did not want our son to grow up in a polluted and congested place."
Camille and Borky never thought about leaving the country, but an opportunity presented for them.
Borky, an art director, was offered a higher pay in Cambodia, and they decided to give a shot.
But maintaining a long-distance relationship became too challenging for them, so Camille considered the option of moving.
She continued, "It was quite hard because it was our first time to go out of the country. The only thing I was leaning on was that we will finally be together."
After discussing their options and getting feedback from fellow Filipinos based in Cambodia about work opportunities, she and their son, one year old at the time, joined Borky in Phnom Penh in January 2011.
Moving to Phnom Penh
Since he had been living there for six months, it was Borky who made arrangements for an apartment, secured Camille's and Serif's visas, and everything else they would need to settle in.
They lived in Phnom Penh, the Kingdom's capital, where Camille found a job as the head of marketing of a non-governmental organization.
As with all things new, their first year in Cambodia proved to be challenging.
Camille related, "Language was a barrier, and working with the locals required patience.
"I had difficulty understanding what they're saying, and I also had to adjust the way I speak and use 'barok' English so they could understand me.
"They have a different work culture, and it took a lot of time to adjust and adapt to my new work environment."
Getting from one place to another was also a concern because Cambodia's public transportation was not commuter-friendly.
"They only have the Tuktuk (a motorized vehicle resembling Pinoy tricycles) and motorcycles, and being expats who do not know their language, we would usually be charged a very high price, even if it was just a short trip."
Because of that, Camille and Borky decided to purchase their own motorcycle.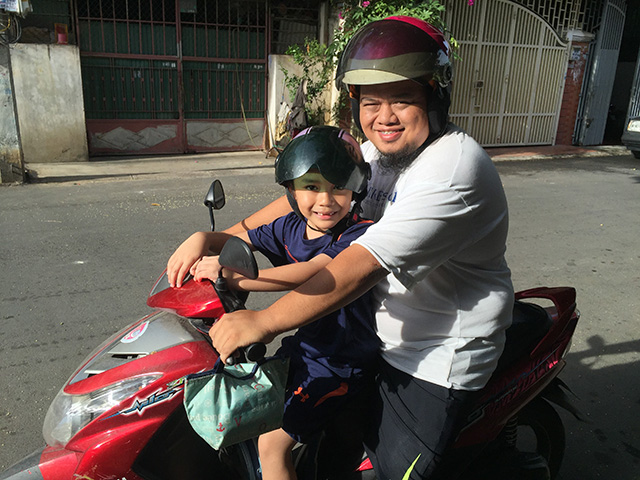 But the biggest hurdle Camille and Borky had to face was finding a nanny who could look after their son while they were both at work.
"We hired a Cambodian nanny based on an officemate's recommendation. She was not a stay-in nanny, so my husband and I had to make sure at least one of us was back home on time."
But Camille realized that Filipinos truly gave the best kind of care, "After two years, we decided to bring my nanny from the Philippines to Phnom Penh."
Perks
The Peridas did not regret their decision to move the family to Cambodia, despite the challenges.
"We both have better pay compared to our jobs in the Philippines. We enjoy benefits like health care, annual leaves, 90 days of maternity leave, and paternity benefits. Being with an international company also gave me the opportunity to travel abroad to countries like Kenya, Madagascar, South Africa, and Vietnam, among others. Filipinos working in Cambodia are highly regarded," Camille pointed out.
She and Borky also found more time for family with Cambodia observing up to 30 days of public holidays in a year.
Among these holidays include the Khmer New Year in April, the Water Festival Ceremony in November, and the Visak Bochea, or the birth of Buddha, which is widely celebrated by the locals, the majority of whom practice Buddhism.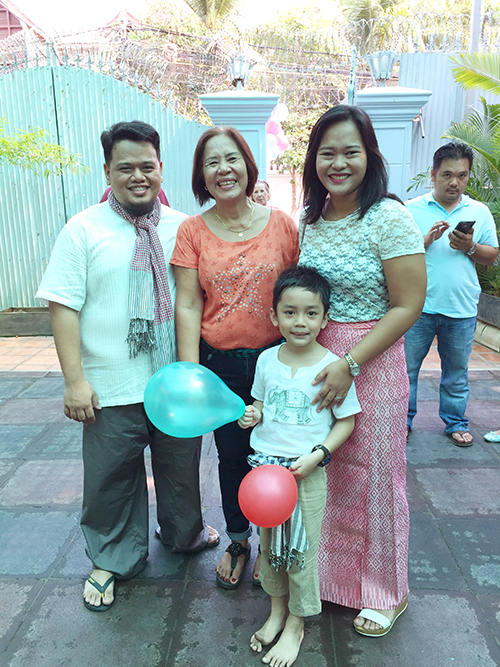 Camille also loves the fact that public parks were accessible from where they live, allowing them to bring their son outdoors for a few hours of unstructured play.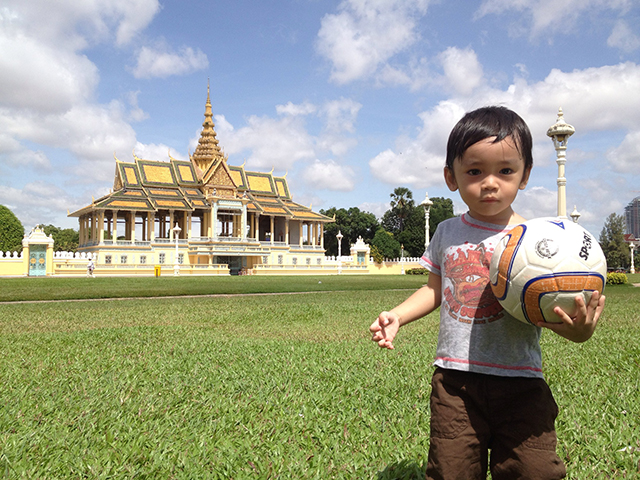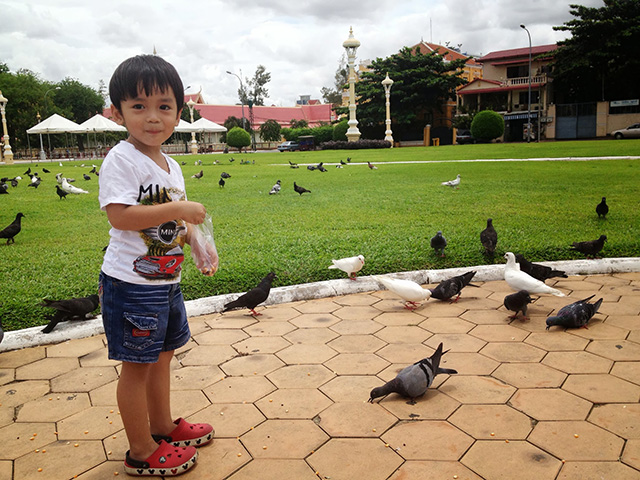 When it came to food and diet, Khmer cuisine offered many delicious healthy choices.
"Most of the food here is served with vegetables—even street food. When you order a 1-piece chicken meal at KFC, it comes with pickled vegetables and egg."
Education
Their son Serif is currently in Grade 4 at The Giving Tree, an international school in Phnom Penh that follows a play-based curriculum.
"It's more expensive here than in the Philippines, but the international curriculum they offer uses the same standards as in other developed countries," Camille said.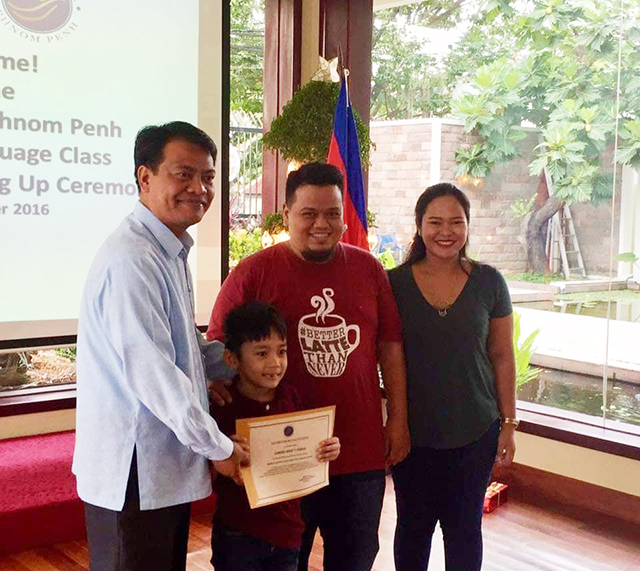 She added, "They don't give the kids homework; they want them to relax and play after school and to spend time with family instead."
The children were also evaluated not on academics alone; in fact, the school did not give recognition to the top students.
"The international primary curriculum (IPC) recognizes the child's multiple intelligence development, and they are taught to be creative, to understand and experience the concepts. There's no pressure to be on top. That's why my son loves his school. He's always excited to go to school."ADVERTISEMENT – CONTINUE READING BELOW
Family life
The Peridas' daily grind would start at 6:00 a.m. on weekdays.
Camille would prepare their meals for the day, then bring Serif to school which would be a mere five-minute drive from their place.
Office work would be from 8:00 a.m. to 5:00 p.m. only, which gave her time to do groceries, cook dinner, and even attend Crossfit class before dinner time at 8:00 p.m.
When they feel competitive, they take the battle to the gaming console or play other online games (they enjoy up to 8GB of data for a measly US$5 a month or about PHP 250).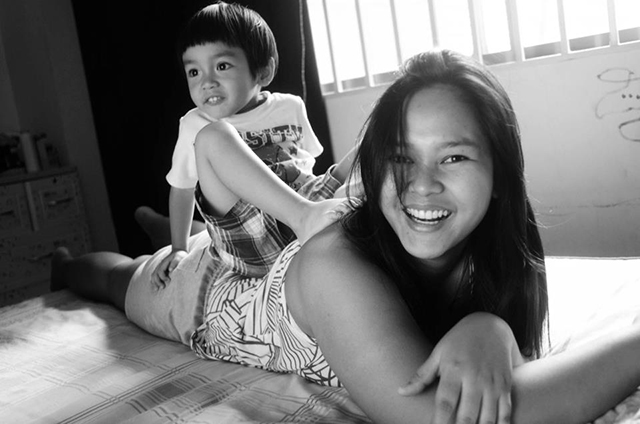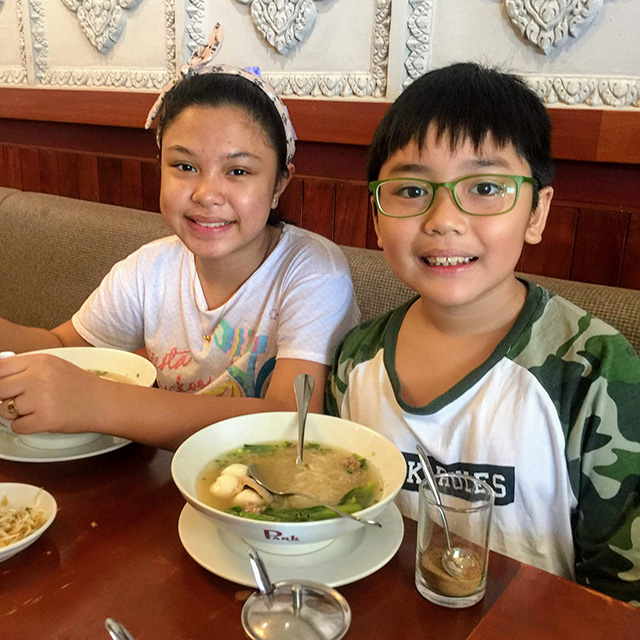 On weekends, Camille and Borky would attend a Crossfit class together and then spend the rest of the day leisurely with Serif.
"Sometimes we watch a movie and eat out. Our favorite dishes are kuy teav (rice noodles with beef) and koh kor numpang (stewed beef curry with baguette)," Camille said. "The best thing about living here is really being able to live in a simple, relaxed, and stress-free environment."
Signed, sealed, delivered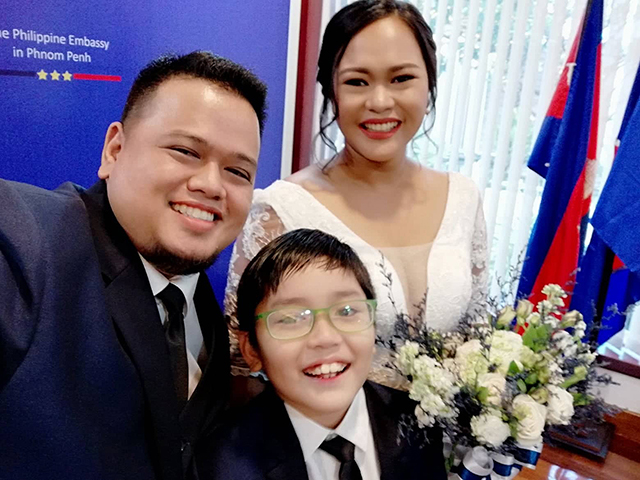 Camille and Borky tied the knot (how fitting was #CamBoWedding?) at the Philippine Embassy in Cambodia in November, sealing the deal after 14 years.
"We decided to have our wedding here because it's easy and convenient, especially when securing permits. We didn't hire a wedding planner; we just did all the preparations ourselves, which made it a bit cheaper in a way," Camille remarked.
Their guests included not only family and members of the Filipino community, but also locals who were co-workers-turned-family. "Khmers are very friendly and approachable, especially with Filipinos. They are also kind and religious."
The locals were part of the reason the Peridas have learned to love the country that they now call home.
This story originally appeared on  https://www.smartparenting.com.ph/parenting/real-parenting/raising-kids-in-cambodia-a00061-20181228-lfrm
*Minor edits have been made by the PEP.ph editors.
Read more athttp:// https://www.smartparenting.com.ph/parenting/real-parenting/raising-kids-in-cambodia-a00061-20181228-lfrm#eUgzhyW4UQx45YMP.99