High Rise Numbers Soar in Capital
Phnom Penh: The number of 5 floor or more buildings in the capital now stands at 1100, according to the Ministry of Land Management and Construction's annual report.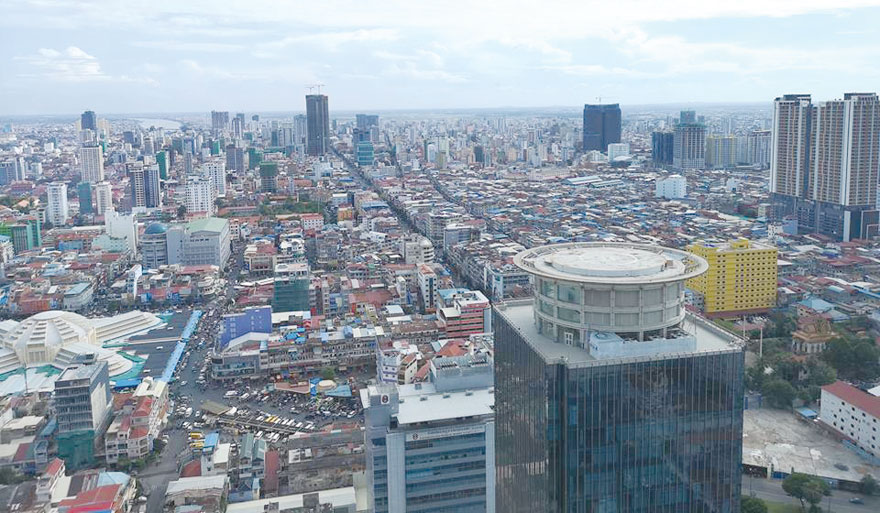 The increase in high-rise buildings in Phnom Penh has been seen by experts as reflecting the confidence of national investors and the international community, maintaining peace, political stability and strong economic growth over the past two decades.

Va Virak, first internationally recognized real estate expert in Cambodia and head of Century 21 Fortuna Investment, said high-rise buildings have contributed to the country's economic growth potential, and given more confidence to investors.
"In the last few years, Cambodia has many high skyscrapers that show confidence and activity. Real estate sales are expanding. In addition, high-rise buildings have shown a surge in foreign direct investment. " Va Virak added that the rise of the skyscrapers also showed the trend of the living for a new generation and the influx of foreigners, investing and working in Cambodia.

Mr. Seng Seap, director of Key Real State, also said
"The real estate sector is behind the economy and some economies are unstable, making the real estate sector less robust," he said. "But in Cambodia, we see that not only the economy is strong, but the real estate sector has grown significantly, especially in the major cities. Like in Sihanoukville and Siem Reap. "

The Secretary of State for the Ministry of Land Management, Urban Planning and Construction Mr. Lao Tip Seiha said that the high rise of the buildings provided many jobs. A lot of professional knowledge in the construction sector gives incomes to technicians and skilled workers, and provides the experience of high-rise buildings in Cambodia. .

"The high concentration of buildings in Cambodia is due to the high confidence of investors in the Kingdom of Cambodia," he said. "Through Cambodia, there is a good political stability, good political stability, favorable macroeconomic stability, investment law and construction law, together with some of the legal laws of Cambodia are conducive to the construction of skyscrapers. In particular, the law regarding foreign ownership co-owned buildings all of which makes the construction industry in Cambodia grow. "

The Secretary of State, said: 'The growth of high-rise buildings show the progress of the shaping of Phnom Penh, as the Kingdom of Cambodia, as a developing country like other countries. In addition to helping to improve the beauty of Phnom Penh, skyscrapers in the city shows that there growth is strong. "

According to a report from the Ministry of Land, construction nationwide from 2000 to November 2018 issued licenses for construction of classes Sub-national and sub-nationalities comprised of 43,136 projects with a total construction area of ​​more than 114 million square meters and total estimated cost of investment at about $ 43 billion over the whole year of 2018, down 18% compared with $ 64 billion in 2017. https://kohsantepheapdaily.com.kh/article/757244.html