Almost $300 Million in 10 New Investments- CDC
Phnom Penh: The Council for the Development of Cambodia (CDC) has approved 10 investment projects in Cambodia with a total investment amount of almost 300 million US dollars, and which are hoped to create more than 5400 domestic jobs.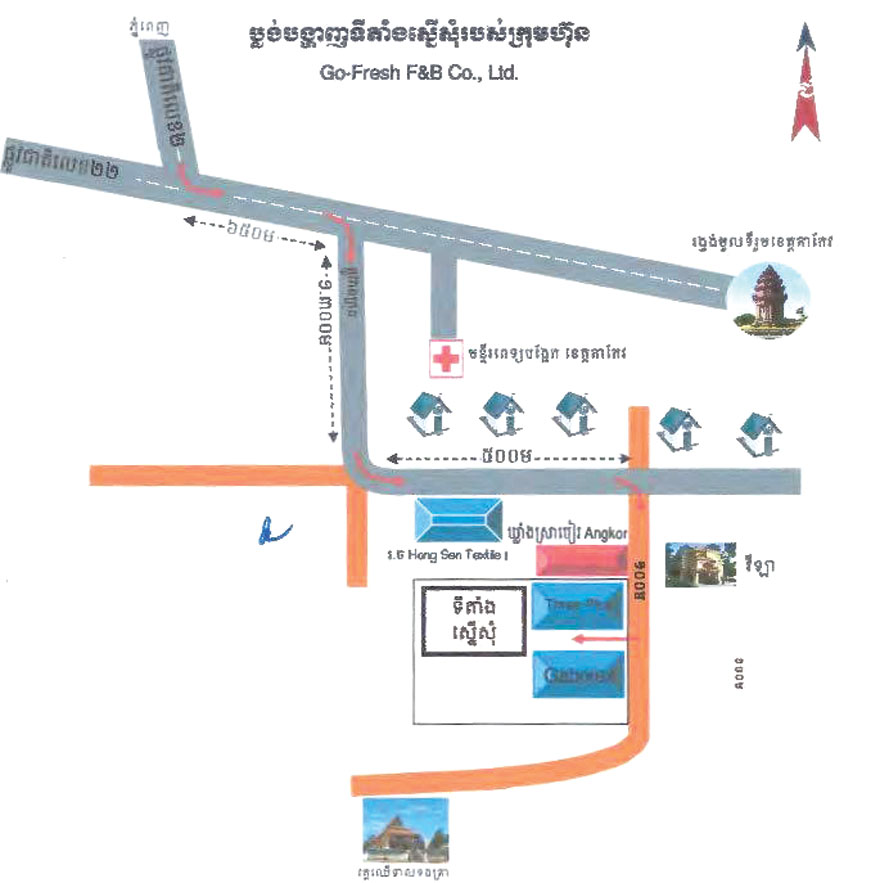 According to the official website of the Council for the Development of Cambodia, this institution has decided to issue a certificate of registration to 10 companies, including:
1. FAR EAST IMPORT EXPORT CO., LTD. The project for setting up a wine and beverage factory with on a site in Prek Thom Village, Kbal Koh District, Chbar Ampov District, Phnom Penh has an estimated investment capital US $ 13.18 million and will create 460 jobs. 
2. GO FRESH F & B CO., LTD. The project for setting up a juice, and fruit juice factory located in Ta Duk village, Sangkat Rokar, outside Doun Keo town, Takeo province. It has an investment of approximately US $ 17.58 million and is able to create 821 jobs. 
3. LIEFENG OUTDOORS (CAMBODIA) CO., LTD.
4. A factory producing and installing all kinds of lights for investment, located at Trapeang Chrey Commune, Ke kapi II District, Por Sen Chey with investment of approximately US $ 5.69 million and 518 jobs. 
5. The construction of 230KV high voltage transmission line from Stung Tatai Hydroelectric Station in Koh Kong to Phnom Penh at the point of the station. The investment is estimated at US $ 136.69 million and will create 34 jobs.
The sixth company plans to create a plastic product factory "Plastic Cupboard, Plastic Box, Investments Location in Mean Village" has about 2.95 million US dollars and can create 158 jobs. 
7. Project to Establish a Plastic and Printing Factory with Investment Site at National Road 3, Group 8, Toul Kei Village, Pur Senchey District, Phnom Penh, has an investment of approximately 2.23 million US dollars and can generate 157 jobs. .
8. CDC's press release states that the eighth is a project to conduct a marble (marble) business with investment facilities In the slopes of Phnom Srok, Prey Chor village, Kumruk commune, Toek Phos district, Kampong Chhnang, with an investment capital of about US $ 4.64 million.
 9. Projects to set up a factory producing all kinds of paper packaging in Srah Keo village, Kampong Preah commune, Sangke district, Battambang province. Investment of approximately US $ 11.11 million and create 401 jobs.
10. Thee construction of a business class hotel project with 600 rooms in Village 8, Sampov Loun, Koh Thom, Kandal Province with an investment of 94.5 million US dollars, creating 1,221 jobs.
Please note that in the first six months of 2018, the Council for the Development of Cambodia has approved a total of 106 foreign direct investment projects costing about US $ 3.5 billion and will create about 100,000 jobs in Cambodia. https://kohsantepheapdaily.com.kh/article/754396.html