Cambodia Has a Big Problem With Small Loans
Tumbling rates are luring more and more poor farmers into debt

Fear of social unrest growing if workers can't repay debts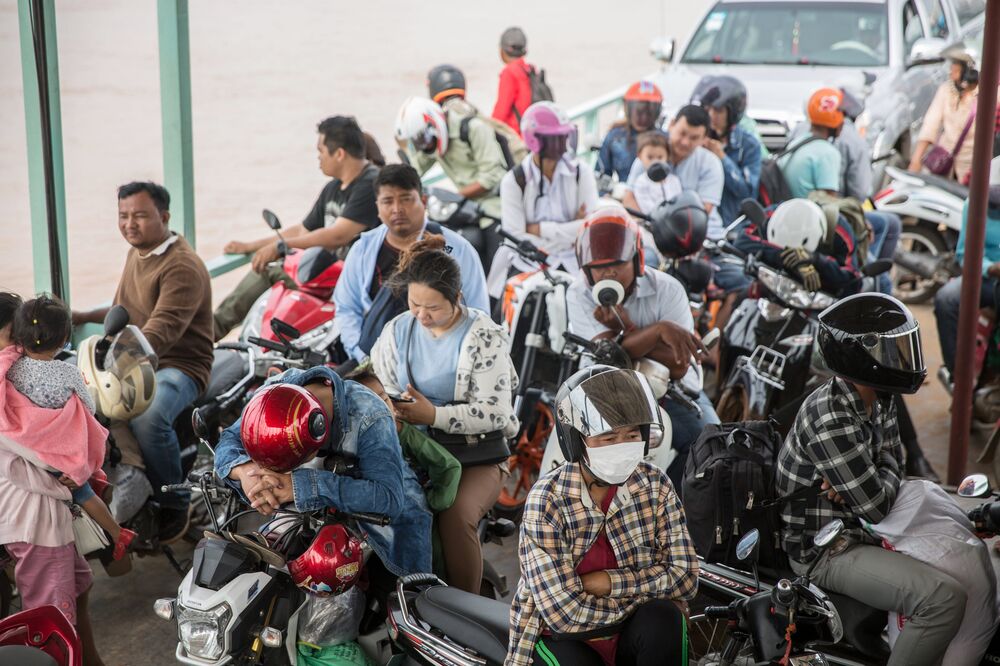 As the sun rises beyond the Mekong River over the village of Ta Skor near Cambodia's capital, 60-year-old farmer Sophal and his wife are hard at work trying to revive their flood-damaged corn crop.
Sophal said his harvest was once the lifeblood of his family, providing them with enough food and income to survive, but after a few bad years he began taking out small loans from various microfinance institutions (MFIs) to cover his losses. Now, he doesn't know if he will ever clear the debt of $2,000.
"This month again has been hard because there is a lot of flooding in the farm and now I will not have the money to pay back my loans," said Sophal, his shirt drenched in sweat. Without the help of his friends and a son who works across the river in Phnom Penh, he could lose everything.
Stories like that of Sophal, who only gave his first name, are now common in a country where an ever-expanding field of MFIs and loan sharks jockey for business among millions of poor Cambodians, pushing household debt to an all-time high. Economists worry that at best the debt could put the brakes on economic growth, and at worst could fuel social unrest as inequality rises.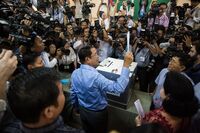 That poses a major challenge for Prime Minister Hun Sen, who extended his 33-year-rule when his party won all 125 seats in a July election after the main opposition party was dissolved. The victory was dismissed as a sham by the U.S. and European Union, which is considering pulling out of a tax-free arrangement that could threaten more than 750,000 garment workers who are prime customers for small loans.
Assets and credit at MFIs in Cambodia have risen more than 10-fold since 2010, according to the World Bank. The average loan size in Cambodia is now among the highest in the world, growing from $200 to $1,000 in the decade to 2014 — twice the pace of per-capita income. About 2 million borrowers owed a record $2.8 billion at the end of 2017, National Bank of Cambodia data shows.
Nation of Debtors
As many as 10 percent of borrowers can't pay their debts, said Ou Virak, director of Phnom Penh-based think-tank Future Forum. "While incomes have risen in the past 10 years, an economic decline could create an unsustainable environment while people are losing their jobs."
The average loan size of MFIs that focus on the poorest clients in Cambodia stood at 70 percent of median annual income in 2016, according to a report by consultancy group Microfinance Index of Market Outreach and Saturation (Mimosa) that was commissioned by the Cambodia Microfinance Association.
This puts Cambodia among the leaders in developing nations in terms of the percentage of people who borrowed money from a financial institution, according to the World Bank. By comparison, the bank estimates only 3.6 percent held savings at a financial institution in 2016. Outstanding MFI loans amount to a staggering 12 percent of gross domestic product.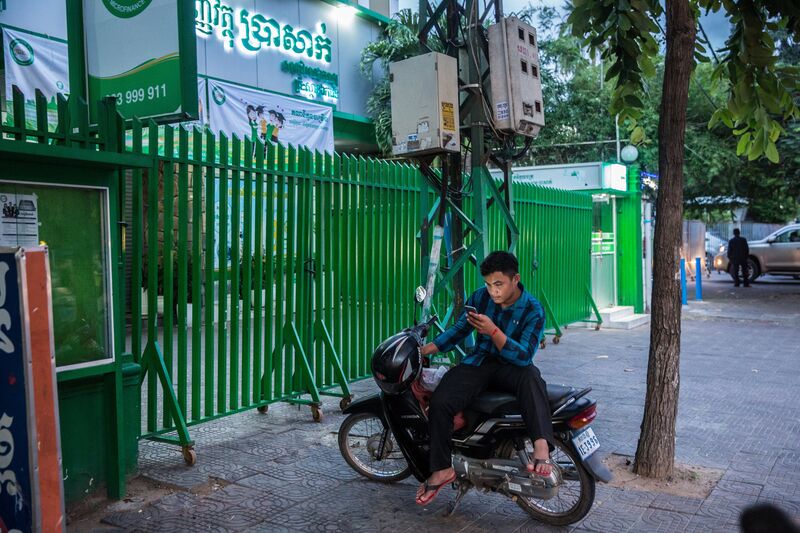 "Loans are very much at a higher rate than you would normally expect," said Daniel Rozas, co-founder of Mimosa and author of the report. He said investors are used to 40 to 50 percent portfolio growth a year, and are loathe to slow the rate of loans despite repeated warnings that the Cambodian credit bubble may be ready to burst.
"It is clear that Cambodians are at this stage, and if they aren't already they will be soon," Rozas said. "If you have a lot of borrowers who are not over-indebted but are close, it would not take much to push them over."
Trade Fallout
Factors that could tip the balance abound. Besides the potential for the U.S. and EU to rescind trade benefits following the election, the fallout of the U.S.-China trade war and a stuttering property boom in Cambodia's big cities could weigh on growth.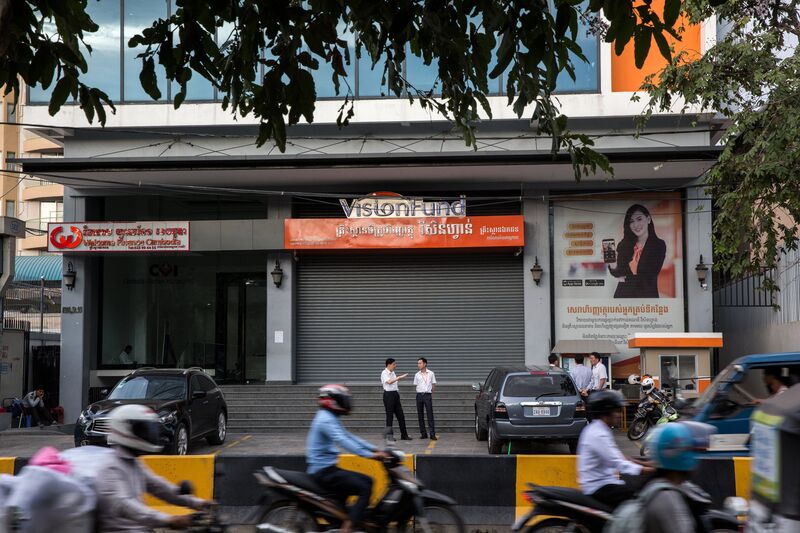 Cambodia's national bank is also taking a stronger stance, revoking licenses from dozens of rural microfinance firms. In May it issued a public warning against borrowing from lenders who promise near zero interest on loans, and last year installed an 18 percent cap on annual interest rates.
The new rules hit profits at MFIs and "shocked the industry,'' said Chan Mach, chief executive officer of KREDIT Microfinance Institution Plc, one of the country's oldest and largest MFIs. But fierce competition to win more borrowers means "interest rates are way lower than the laws.''
Cheap Money
With rates now as low as 1.2 percent, those who are struggling to make ends meet can access cheap money to buy mobile phones and motorbikes. About a third of the loans are now used to purchase household items, according to NBC data.
While the official non-performing loan rate among MFIs was 1.6 percent at the end of last year, the International Monetary Fund said in a report the figure doesn't account for underreporting. Illegal loan sharking also remains an issue.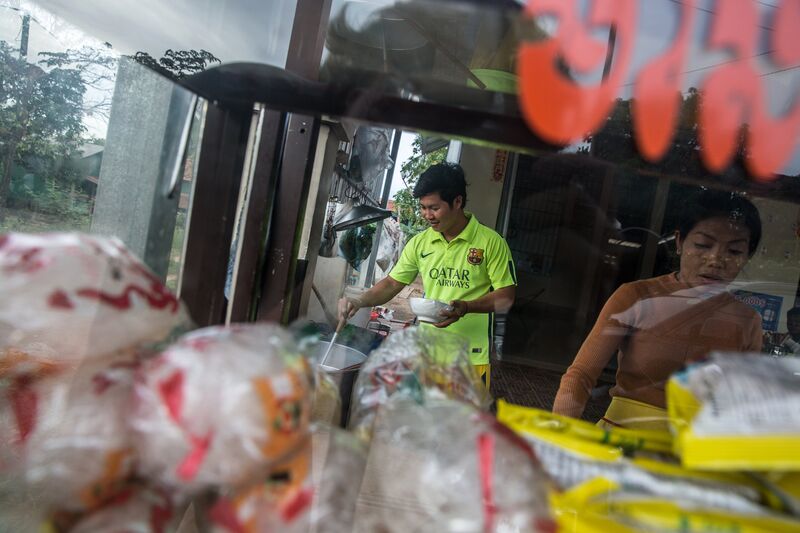 The World Bank said in a report in April it was "crucial" the banking and microfinance sectors adopt stricter lending guidelines and ensure adequate monitoring. There are now more than 70 registered MFIs with about 1,000 branches for Cambodia's 15 million people.
Ly Toma, 29, worked as a loan officers at a local MFI until last year and now runs a small family restaurant in Kandal province. He estimates nine out of 10 families in his commune of Svay Chhum have a loan.
"Everybody has a loan, and now there is a problem because not everyone can pay them back," he said, adding with a laugh: "I know all about loans here so I don't take loans."
Cycle of Debt
In a country with virtually no banking infrastructure following the Khmer Rouge genocide and a protracted civil war, microfinance was initially hailed as a way to alleviate poverty by providing cheap capital to start local businesses or upgrade farms and equipment.
In some cases, that model still holds. In Kandal Province, Ray Oi, 46, took out $6,000 over two years to help her family's business raising cattle.
"I have loans to grow my business and they always give it to me because we can pay it back on time," she said. "In my family we all work so it is not hard to pay back."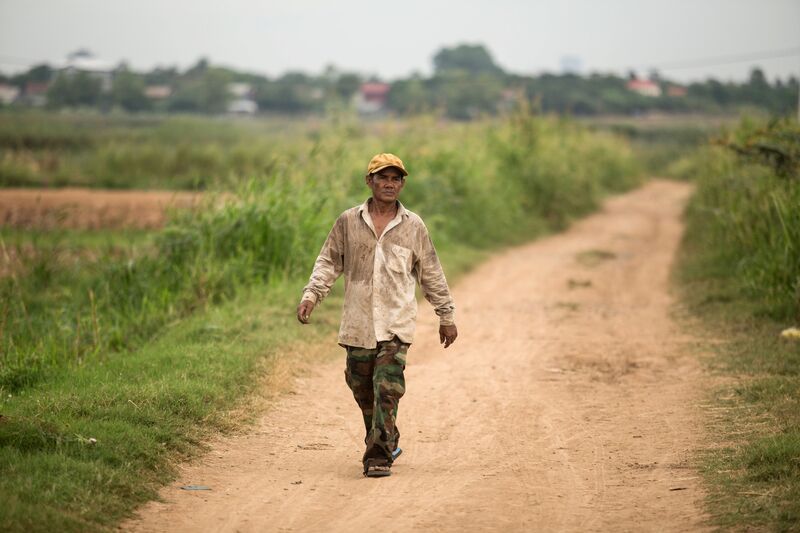 But many others like Sophal of Ta Skor village are stuck in a cycle of debt. He borrows a total of about $2,000 a year to buy supplies to keep his farm going, with the profits eaten up by the loans.
"When I get the money from the bank I feel happy, but at the end of the month when I can't pay it back I feel sad," he said.